Thank you note
from SIYSS organizers
ApartDirect received a thank you letter from Stockholm international youth science seminar.
"On behalf of SIYSS-organizers, we would like to send you a thank-you note. Your kind cooperation has enabled us to take part of world-class international science. Your help has given us the opportunity to give 25 new young scientists and future leaders from all over the world, the tool of understanding and forming new perspectives and important teachings."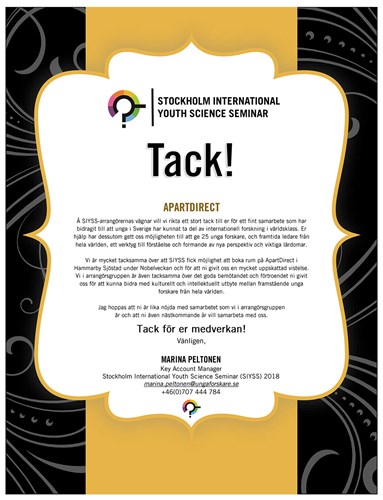 It continues: "Us organizers are very thankful for the great service and the trust that was given to us. It enabled us to engage in cultural- and intellectual exchange between eminent young scientists from all over the world."
ApartDirect would like to say thank you to Stockholm International Youth Science Seminar, it was a pleasure being your host and we would love to welcome you again!