ApartDirect expanded
out of growing demand
ApartDirect was founded seven years ago, as a family business. Mikael Karström, owner and founder of the company, started renting out a few apartments in Hammarby Sjöstad and gained more apartments in Gamla Stan. The company eventually expanded to Älvsjö, Sveavägen, Linköping, Solna, Gröndal, Sundbyberg and the most recent aparthotel in Linköping Vasastaden.
The company is run by approximately ten staff members within support and maintenace who manage the hotel business of 460 apartments from an office in Hammarby Sjöstad, just around the corner from the apartment hotel located there. ApartDirect Linköping is run by two staff members within support and maintenance from an office in the same location as the apartment hotel, which is now counting 95 apartments for both short- and longterm rent.
Johan Möllerström has been working within the company since several years back. He handles the long-stay reservations within the company. 
"I would say the main reason why we are able to handle nearly 500 apartments from one office is thanks to the friendly atmosphere and motivation among us co-workers," says Möllerström and continues: "It's important for all of us to get along, and you are sure to make a better and more efficient job when you feel comfortable in your work environment."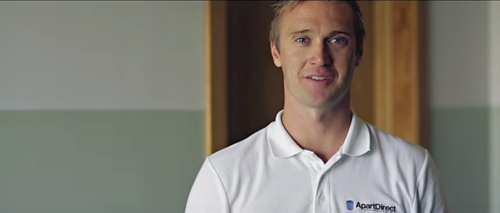 Mikael Karström - owner and founder of ApartDirect
The business concept is simple: Affordable apartments with everything necessary for those who desire a home away from home. There is a kitchen pentry, TV, free wi-fi and other convenient necessities. These stylishly furnished apartments are rented out with focus on comfort, security and value for money. In order to strengthen these values, ApartDirect uses a smart and unique key-code system, a code which can easily be renewed from the office should the code end up in the wrong hands or be forgotten. With this concept, no guest has to be locked out of the apartment late at night due to lost keys. The apartment hotel also has surveillance cameras in all public areas to ensure guests' safety. It is simply safe, private and comfortable.
Many of the apartment hotels have just opened and recently renovated, while being maintained by ApartDirect's own maintenance team. All urgent matters are taken care of directly upon received reports, day and night, while minor matters such as extra towels are prioritized the next day. The support includes both telephone, chat, mail and mostly able to deliver a response within 24 hours.